Photo Restoration
Photo Restoration and Retouching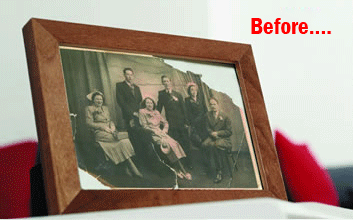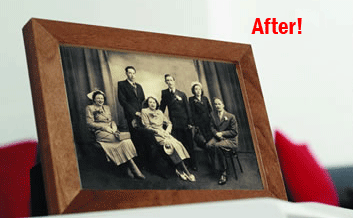 Our experienced team of restorers have been successfully removing scratches, tears, and people from photographs for years. We have changed backgrounds, merged photos and generally made the unlikely possible to provide cherished gifts for loved ones.
All original photographs are digitally scanned and restored by a DOCSOL technician to a size of your choice, in black and white, sepia or colour with a choice of framed or canvas finish.
We offer FREE ASSESSMENT and FIXED PRICING prior to commencement of work, based on level of restoration required. There are four levels - BRONZE, SILVER, GOLD & PLATINUM - see our samples.
Prices start from £19.95, so search through your attic and let us re-create a magic memory for yourself or a loved one. Remember, once your new image has been created, reprints cost as little as £4, so it makes an unusual and economic gift for all the family.
---